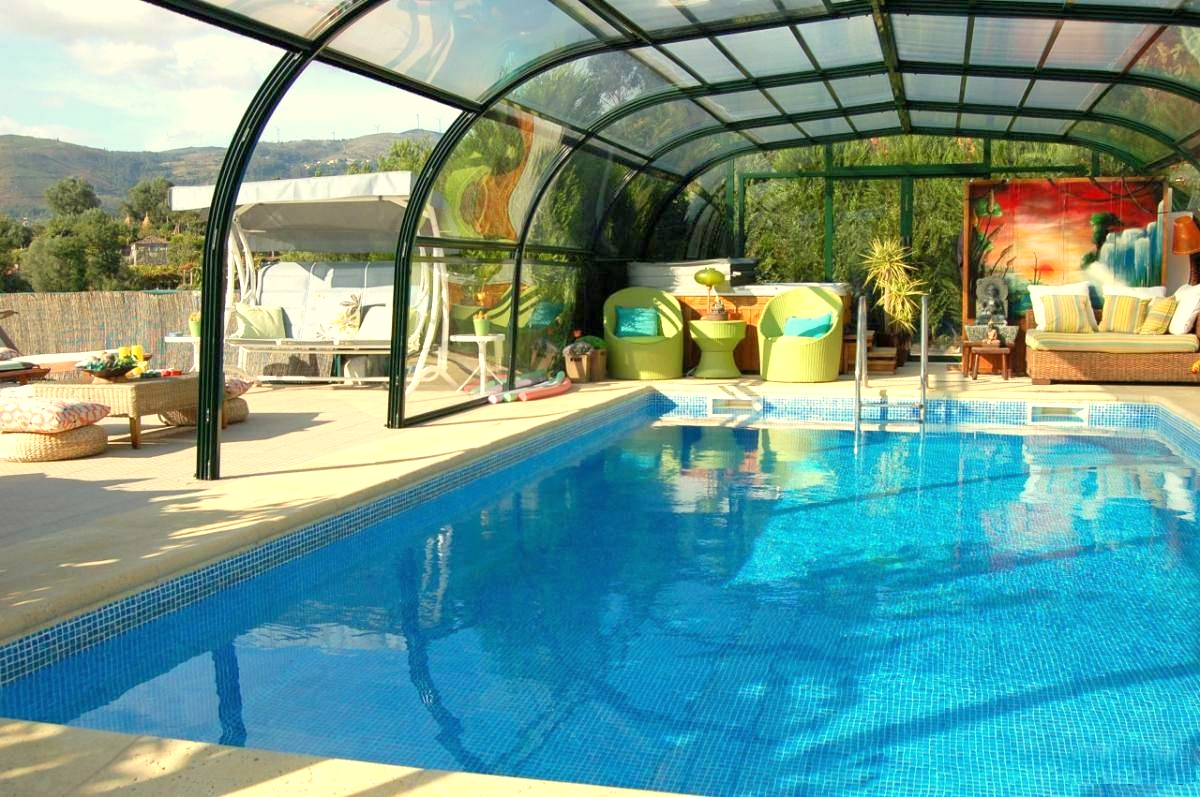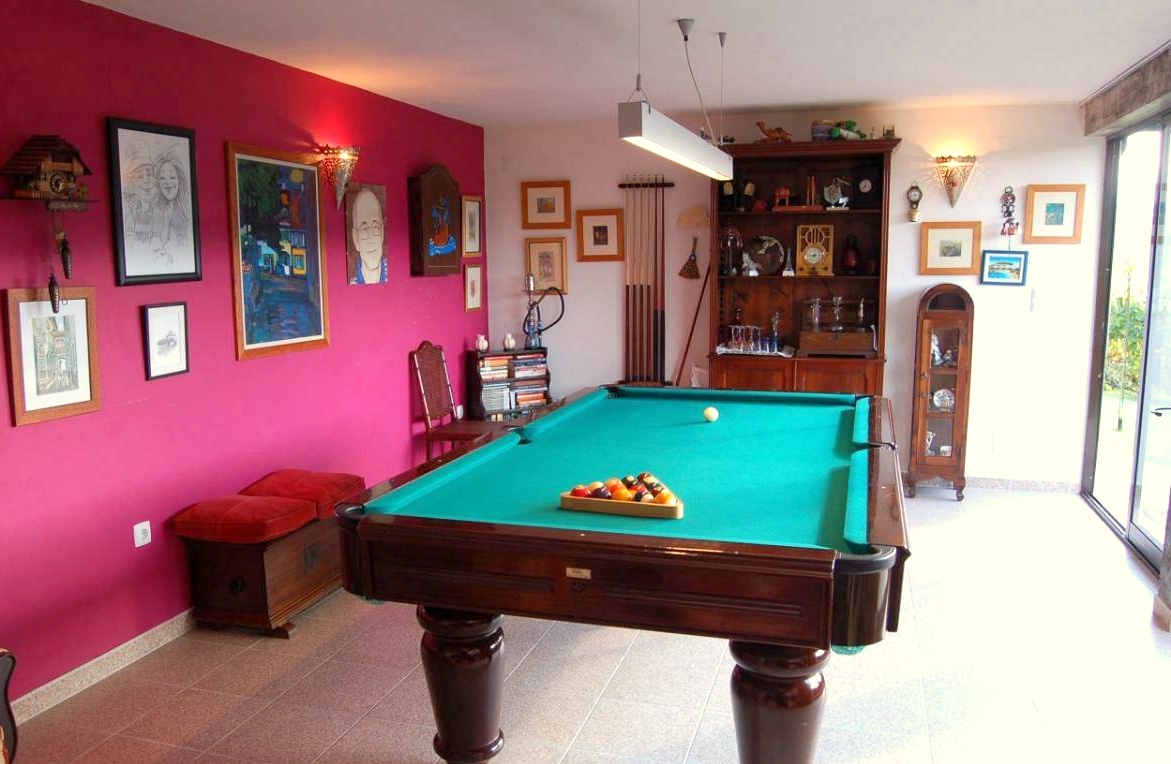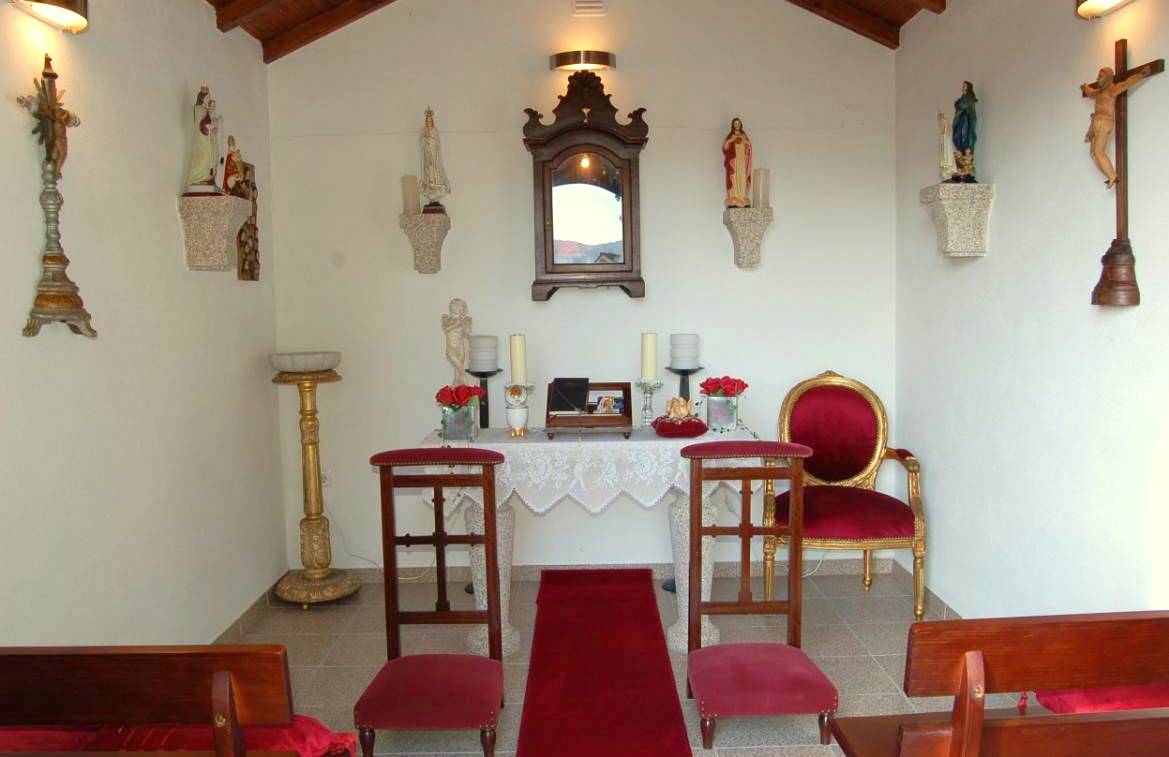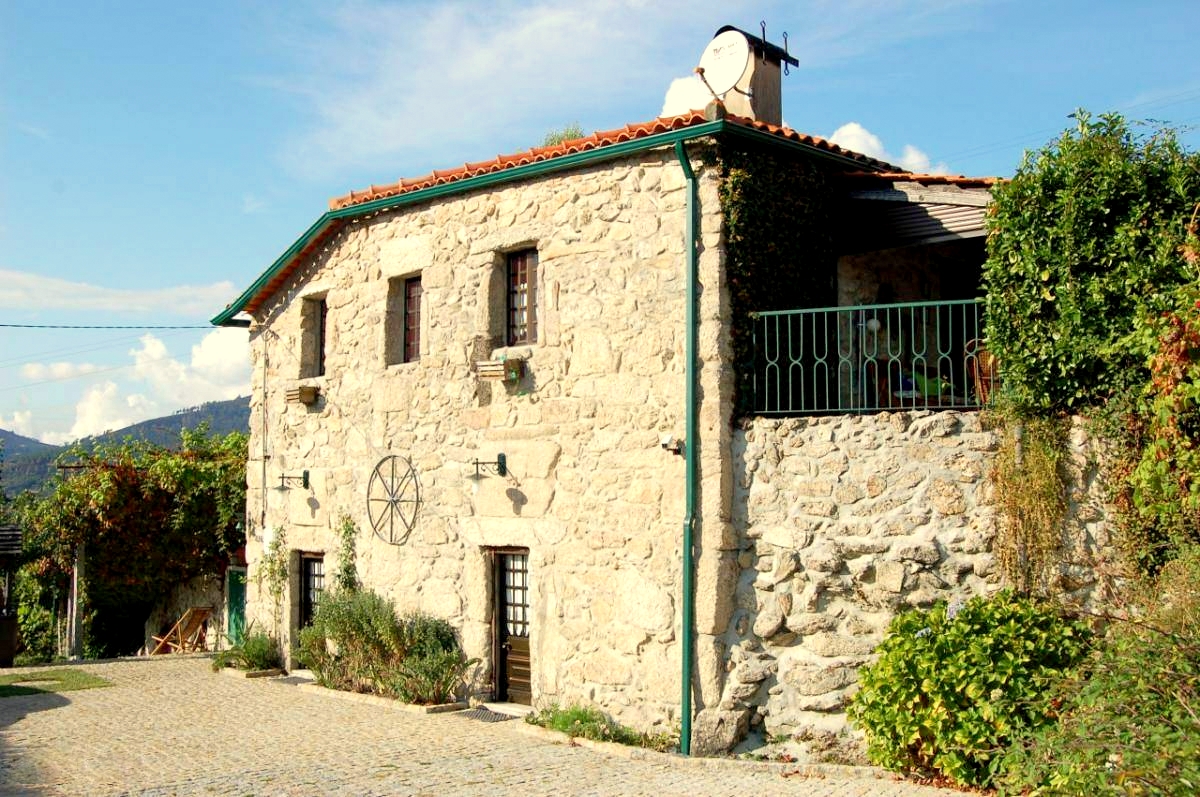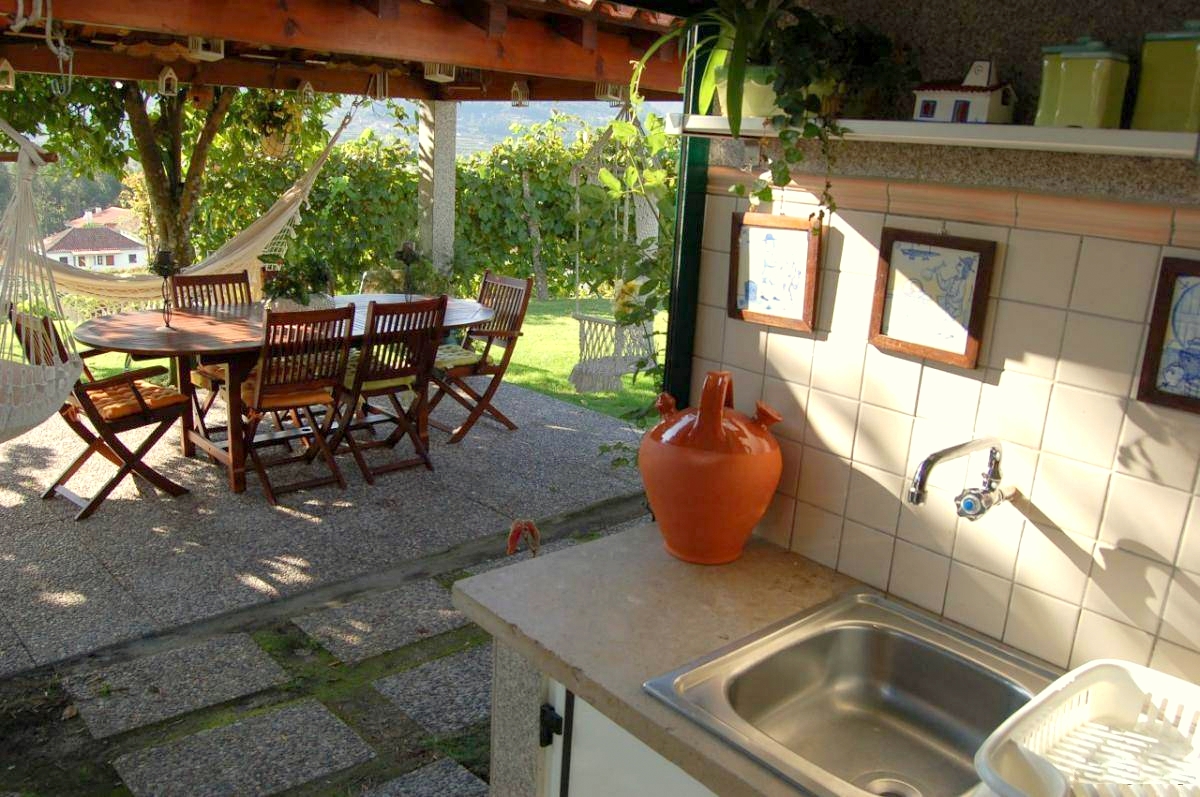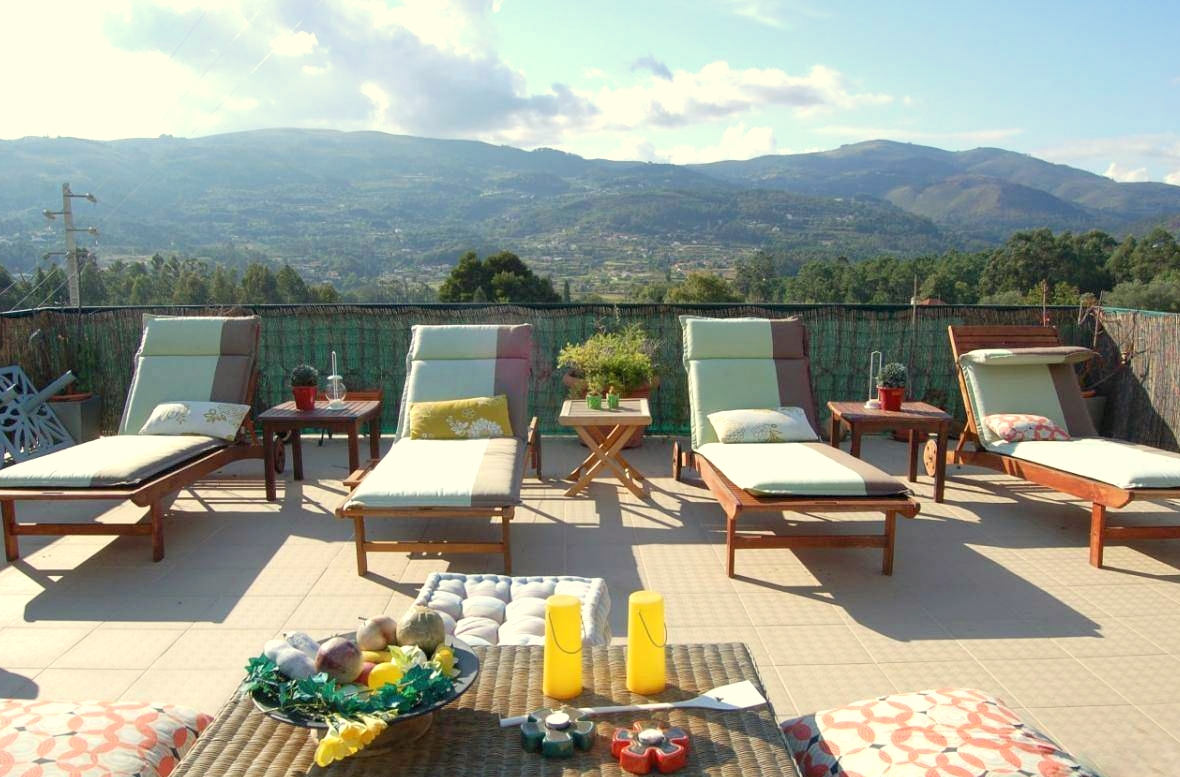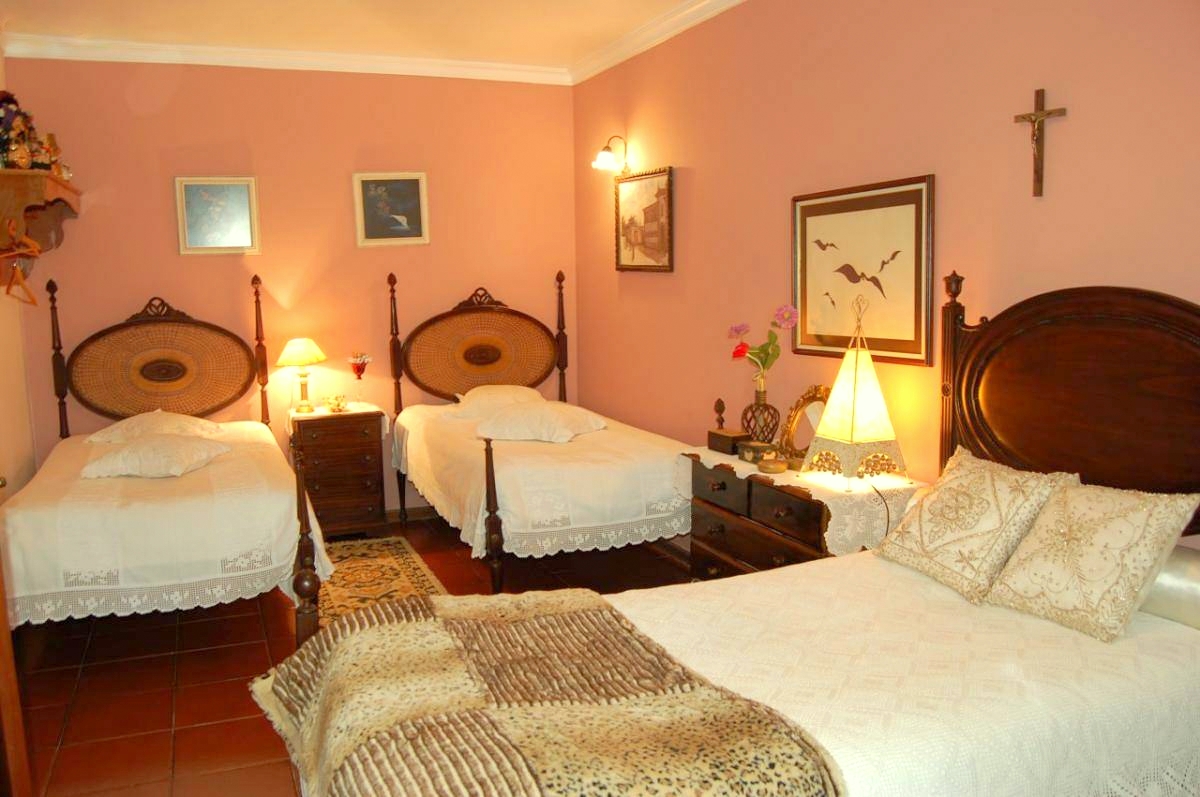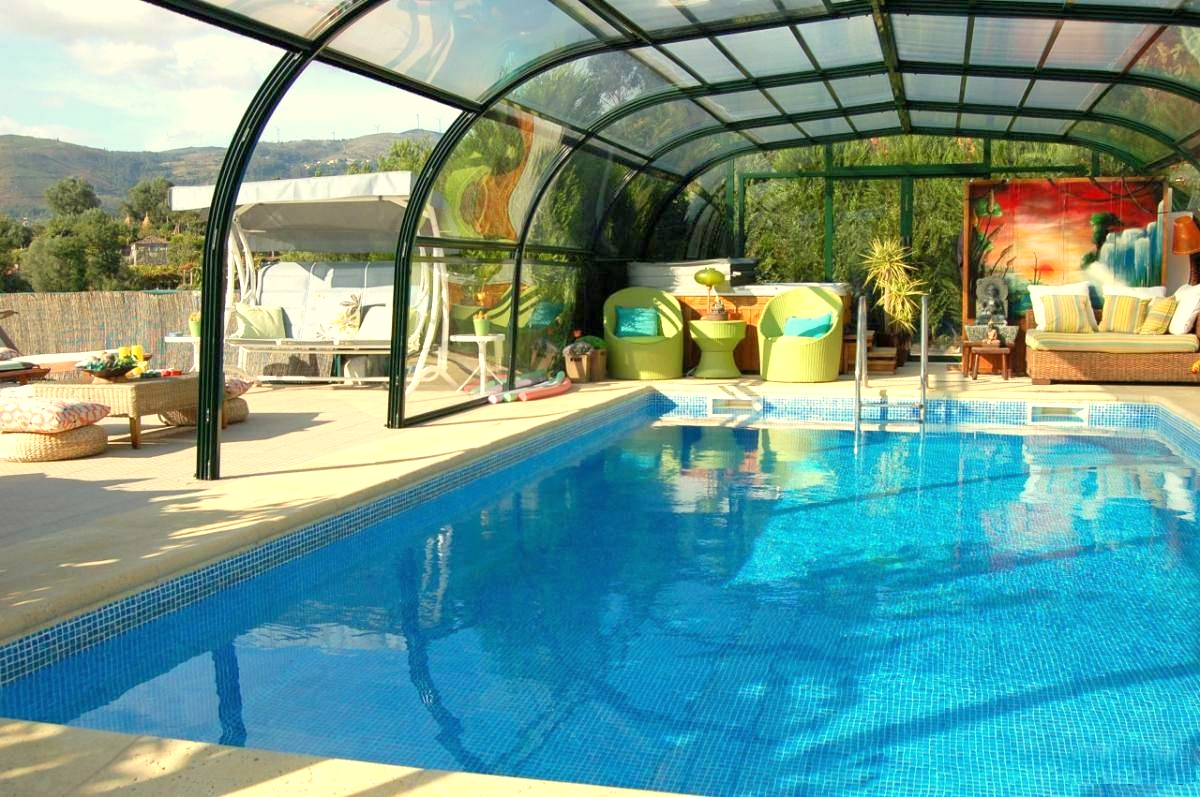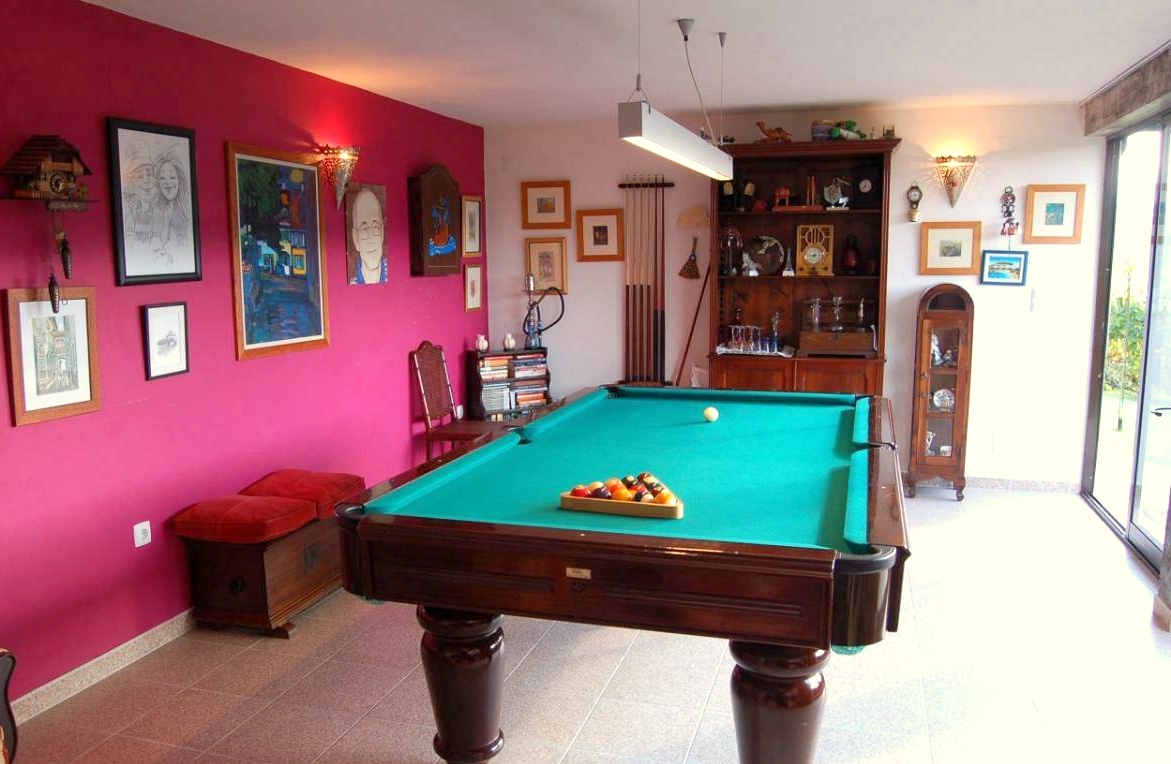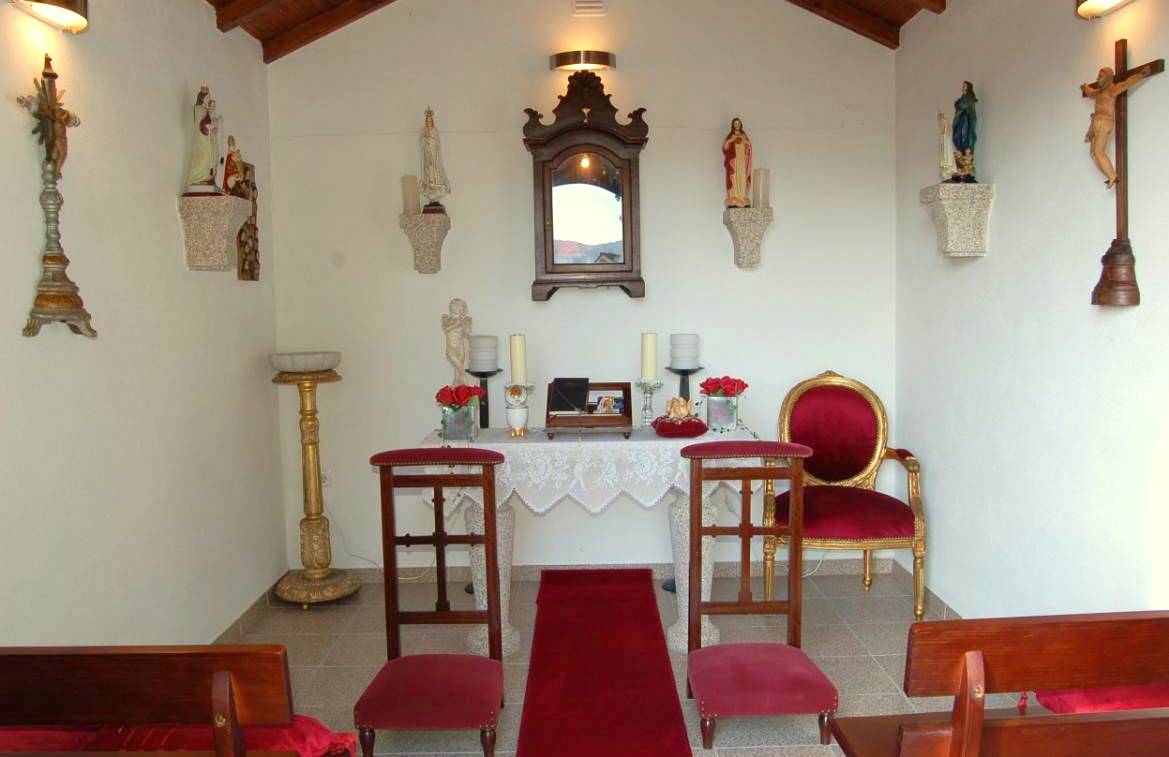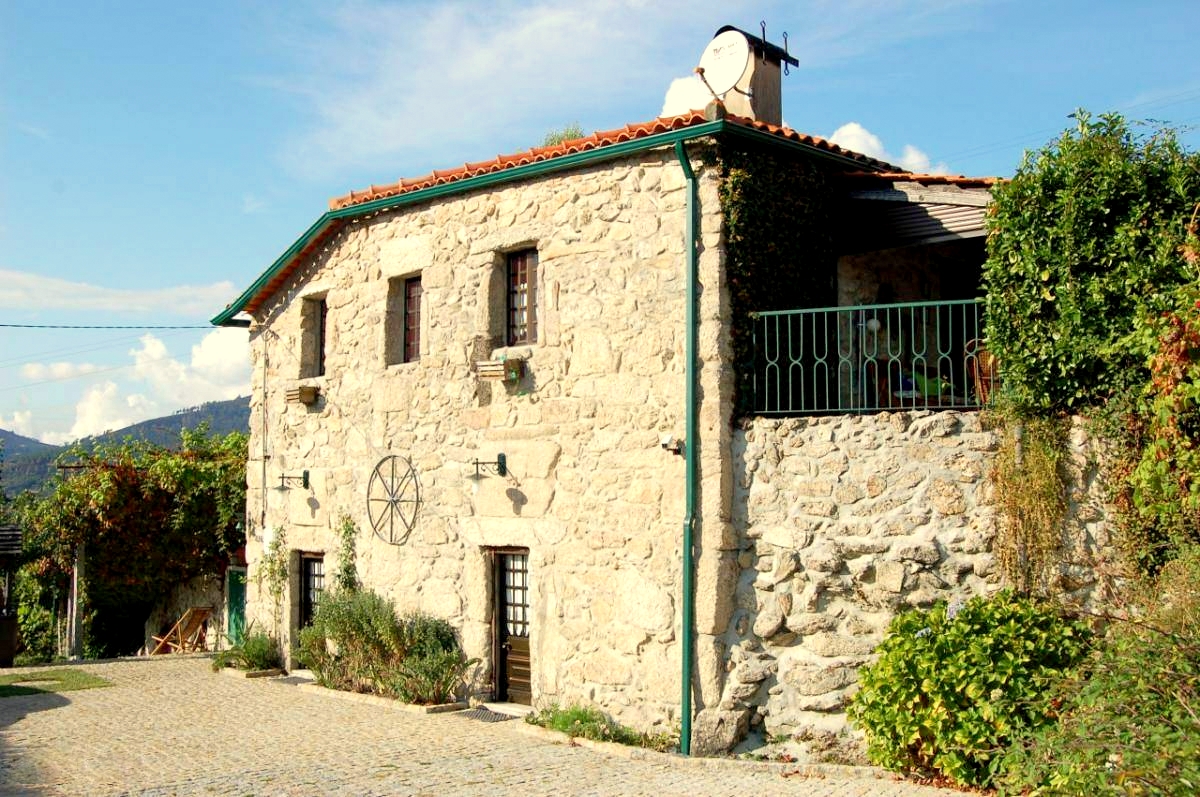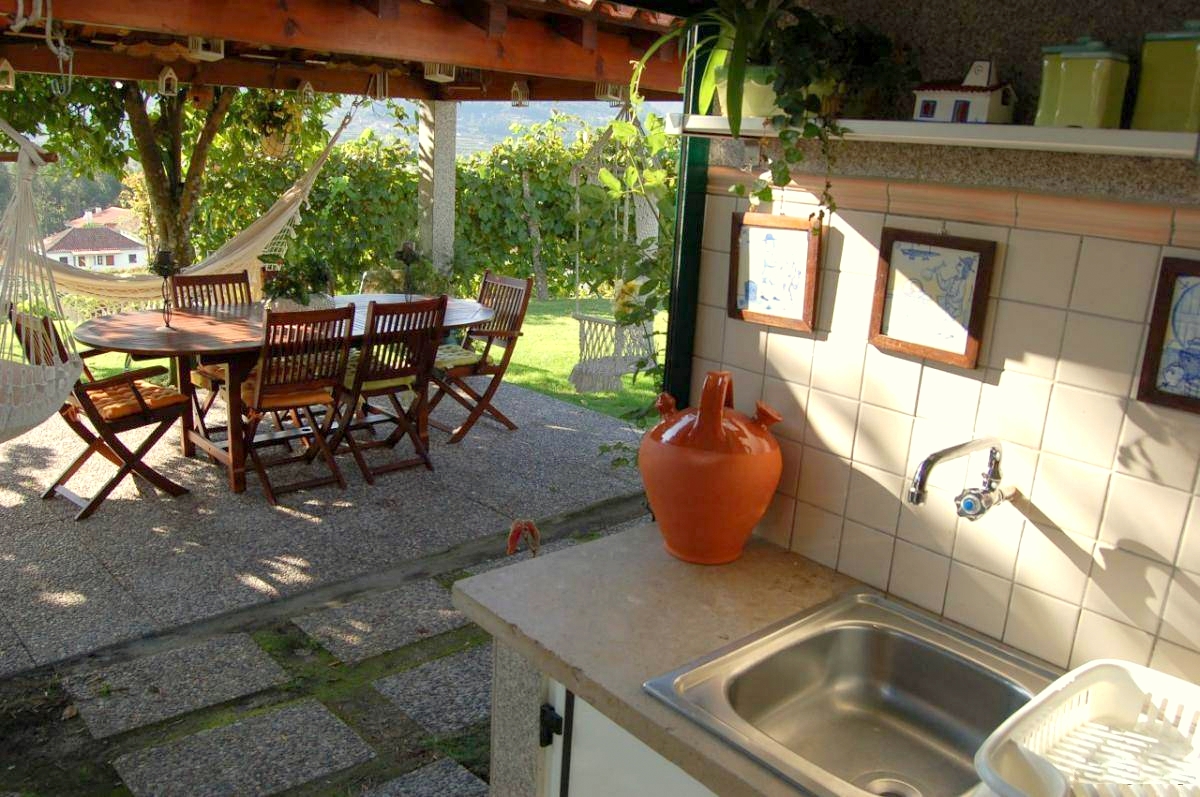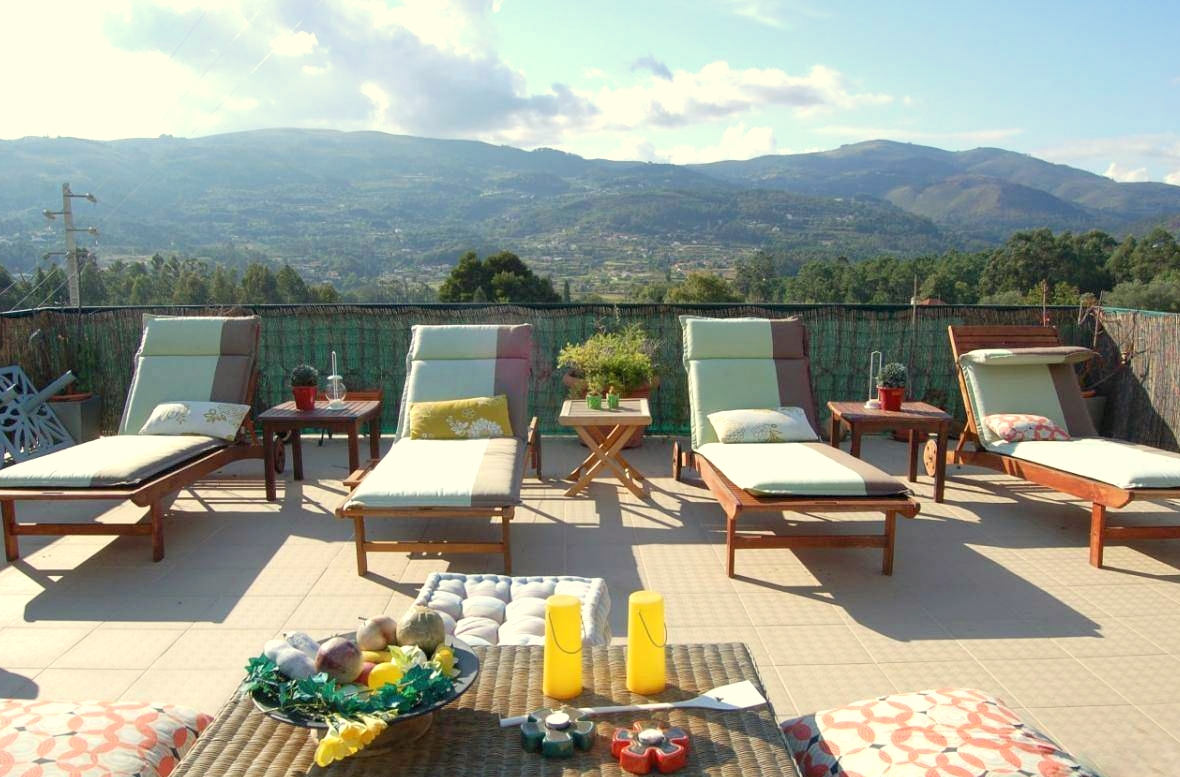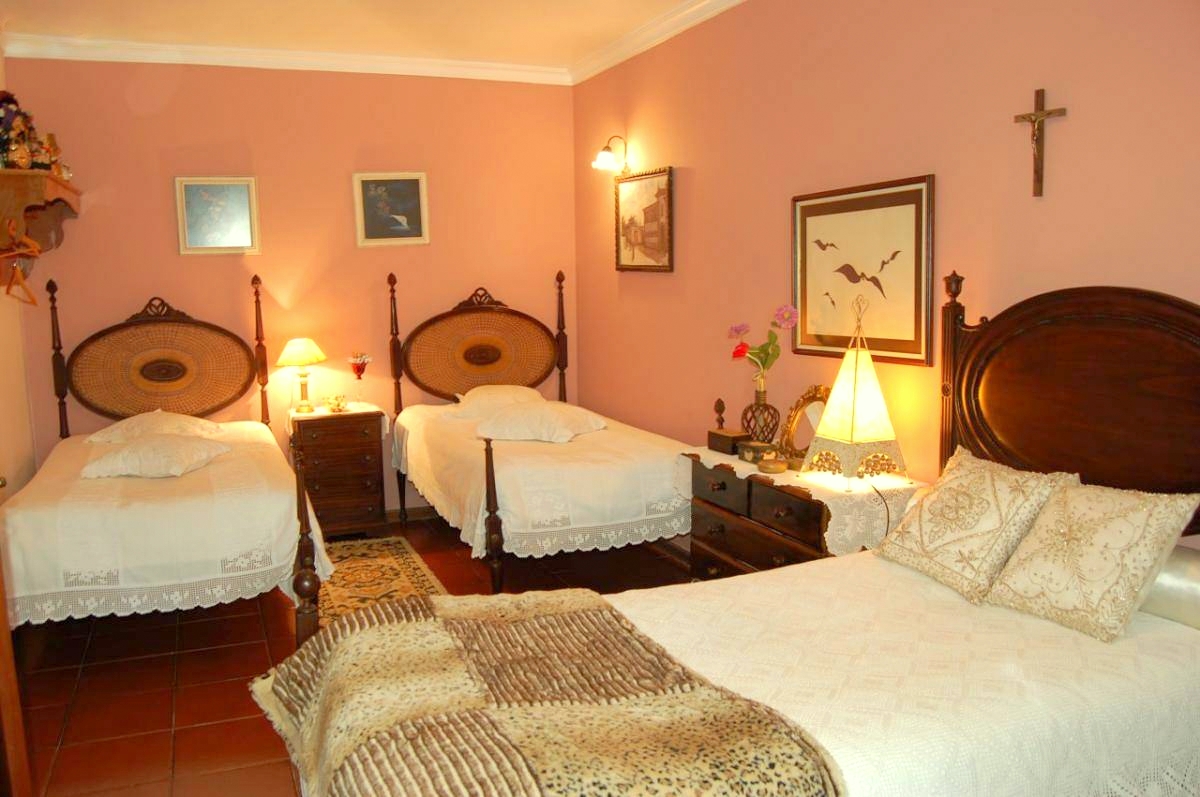 Emerge in the Portuguese culture by staying in our charming country home, built with charater and passion for the country culture, hillside located offering explendid views of the country in a cozy atmosthere all year around.
Unique property with 3 bedroom house, spacious garden, indoor pool and chapel.
Ideal for your family vacation, this home offers its guests, TV satellite and cable in all bedrooms, all bedrooms have individual bathrooms and offer terraces with splendid views.
The house features a dining area and fully fitted kitchen . Guests have at their disposal a microwave, a toaster, a refrigerator and a coffee maker.
The house also features a games room, pool table and darts.
Outside offers BBQ facilities and free private parking.
Price: from 125€ / night
Emergez dans la culture portugaise en restant dans notre charmante maison de campagne, construite avec caractère et passion pour la culture du pays, situé à flanc de colline offrant des splendides vues du pays dans une ambiance chaleureuse toute l'année.
Propriété unique avec maison de 3 chambres, un grand jardin, une piscine intérieure et une chapelle.
Idéal pour vos vacances en famille, cette maison offre à ses clients, TV satellite et par câble dans toutes les chambres, toutes les chambres ont une salle de bains individuel.
La maison dispose d'une salle à manger et une cuisine entièrement équipée. Les clients ont à leur disposition un micro-ondes, un grille-pain, un réfrigérateur et une machine à café. La maison dispose également d'une salle de jeux, table de billard et des fléchettes.
Extérieur avec barbecue et un parking privé gratuit.
Prix: à partir de 125€ / nuit
Arcos de Valdevez 5km away from the property offers all amenities and many good restaurants.
There are a variety of options for day trips,some of the prettiest towns in Portugal are in this area, including Ponte de Lima with its garden festival and horse festival.
This location has a strong Celtic history, there are various ancient sites to visit.
The untold beauty of the Peneda Geres offer breathtaking views enjoyed by mountain bikers, horse riders and walkers alike. There are wonderful beaches between Viana do Castelo and Spain, Galicia is on your doorstep.
Arcos de Valdevez situé seulement à 5 km de la propriété offre toutes les commodités et de nombreux bons restaurants.
Il existe une variété d'options pour les excursions d'une journée, quelques-unes des plus belles villes au Portugal sont dans cette région, y compris Ponte de Lima avec son festival de jardin et la fête du cheval.
Cet emplacement a une forte tradition celtique, il y a plusieurs endroits historiques à visiter.
La beauté incalculable de Peneda Geres offre une vue imprenable dont jouissent les vététistes, cavaliers et marcheurs. Il ya de magnifiques plages entre Viana do Castelo et Espagne, la Galice est à votre porte.
Photo source: Arcos no Coração
Arcos de Valdevez is a very old and idyllic town by the Vez river from which it derived its name. In 1140, the tournament of Valdevez was held here and pitted King Afonso Henriques against Afonso VII of Leon. Many tears were shed here, when during the War of Restoration, the Spanish General Pantoja burned the town to ashes.
Arcos de Valdevez was reborn in the 17th century. It is the Municipal headquarters and has 51 parishes and 32,000 inhabitants. It is surrounded by green hills, where the grapes ripen in the sun. On its roads there are stately houses, towers, bridges and churches.
Inhabited since prehistoric times, as can be seen by the various archaeological finds on display at the Mezio Megalithic Centre, the town is situated in the valley of the River Vez and still retains much of the typical charm of the Alto Minho province - luxuriant green landscapes and the traditional architecture of its buildings, amongst which the most impressive are the manor houses. The municipality of Arcos de Valdevez is located inside the boundaries of the Peneda Gerês National Park, where nature still conserves all of its original charm. Hidden within the region are many delightful communal villages, such as Soajo, where the local populations continue to maintain their ancestral customs and practices.
Source: Aldeias de Portugal
Arcos de Valdevez est une ville très ancienne et idyllique présde la rivière Vez dont la ville tire son nom. En 1140, le tournoi de Valdevez a eu lieu ici et dénoyautées roi Afonso Henriques contre Afonso VII de Leon. Beaucoup de larmes ont été versées ici, quand au cours de la Guerre de Restauration, le général espagnol Pantoja a brûlé la ville en cendres.
Arcos de Valdevez renaît dans le 17ème siècle. Il est le siège municipal et compte avec 51 paroisses et 32.000 habitants. Entouré de collines verdoyantes, où les raisins mûrissent au soleil. Sur ses routes il ya des maisons seigneuriales, des tours, des ponts et des églises.
Habitée depuis la préhistoire, comme on peut le voir par les différentes découvertes archéologiques exposées au Centre mégalithique Mezio, la ville est située dans la vallée de la rivière Vez et conserve encore beaucoup de son charme typique de la province Alto Minho - paysages verdoyants et l'architecture traditionnelle de ses bâtiments, parmi lesquels le plus impressionnant sont les manoirs. La municipalité de Arcos de Valdevez se trouve à l'intérieur des limites du parc national de Peneda Gerês, où la nature conserve encore tout son charme d'origine. Caché dans la région sont nombreux villages communaux délicieux, tels que Soajo, où les populations locales continuent de maintenir leurs coutumes et leurs pratiques ancestrales.