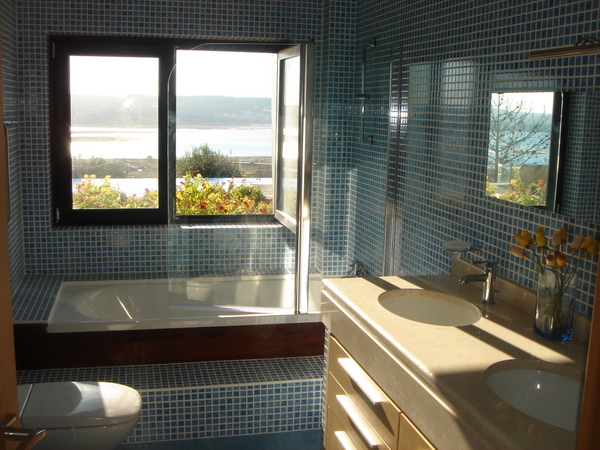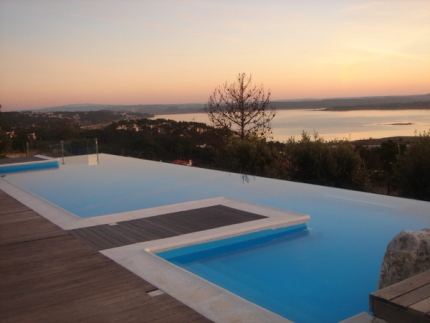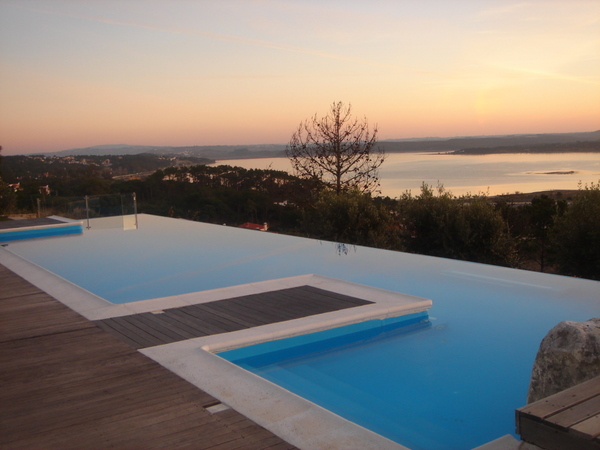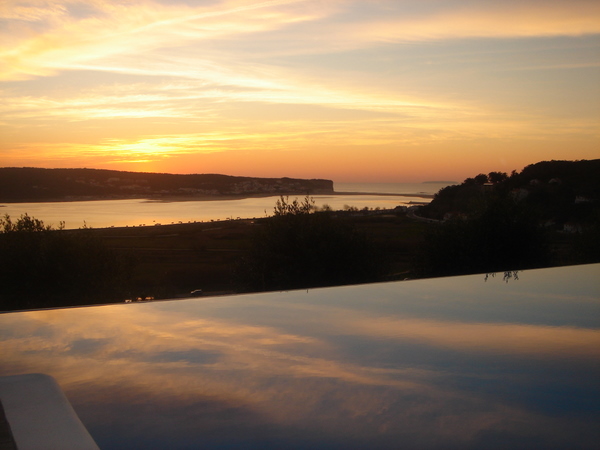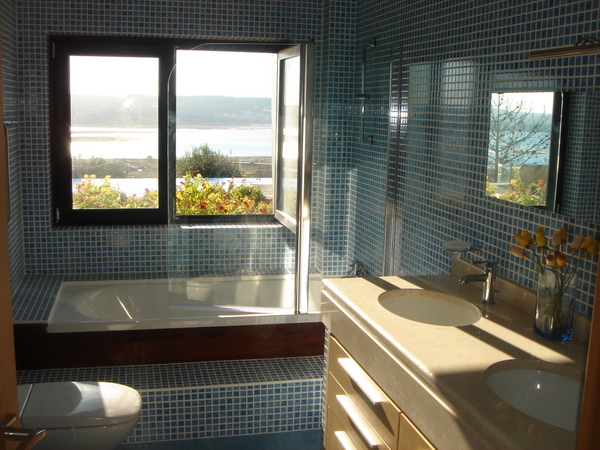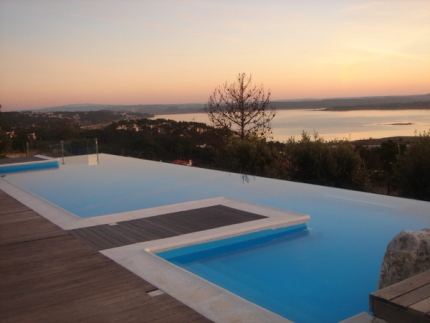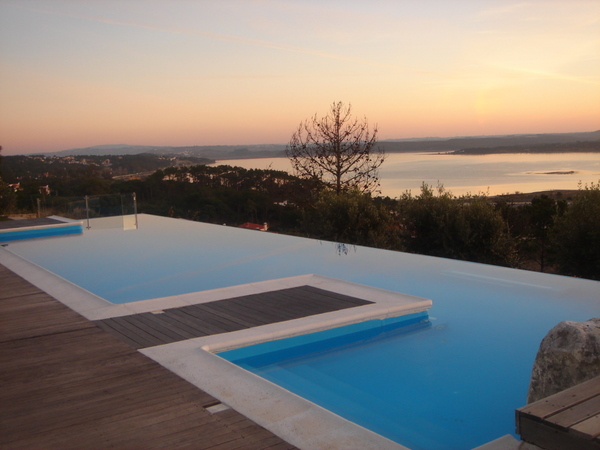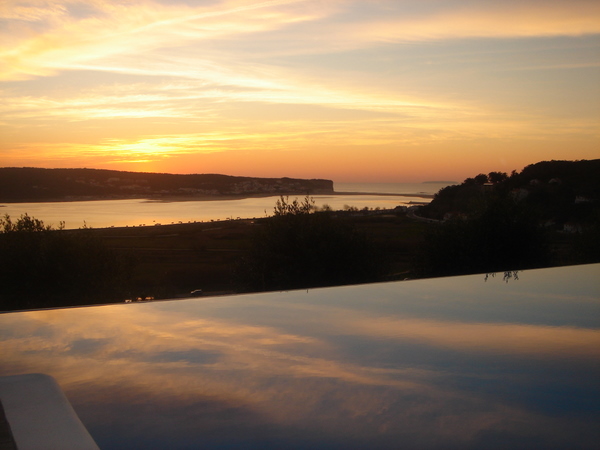 Stunning property located in an elevated plot offering a 180º view of Obidos lagoon with a infinity swimming pool, and featuring 5 bedrooms, 6 bathrooms, spacious lounge with fireplace, dining area and fitted kitchen. The villa was designed in a modern style with large windows that frame the views over Obidos lagoon and Foz beach.
Sheer luxury can only best describe this millionaire exclusively designed home with its spectacular views at every angle and all soaked by the sun. This contemporary modern and stylish house is set in a commanding position upon the ridge overlooking Obidos Lagoon and mouth of the Atlantic beyond. A modern masterpiece from which, to enjoy your well deserved holiday along with your family and friends.
Price: From 340€ / night
Superbe propriété située dans un terrain élevé qui offre une vue à 180° du laque de Obidos avec une piscine à débordement. Disposant de 5 chambres, 6 salles de bains, grand salon avec cheminée, salle à manger et cuisine équipée, cette villa a été conçu dans un style moderne avec de grandes fenêtres qui encadrent les vues sur Obidos et la plage.
Luxe est le mot qui peut mieux décrire cette millionnaire maison de vues spectaculaires à chaque angle. Cette maison moderne, élégante et contemporaine se trouve dans une position dominante, un chef-d'œuvre dans laquelle, vous pouvez profiter de vos vacances bien méritées avec votre famille et amis.
Prix: Depuis 340€ / nuit
Foz do Arelho is located 8 km west of Caldas da Rainha, in the Northwest end of the council, and is limited north by the Atlantic Ocean and by the parish of Serra do Bouro. By South is delimited by the ocean basin of Lagoa de Óbidos (Óbidos Lagoon) and the parish of Nadadouro. East by the limits between the parishes of Serra do Bouro and Nadadouro and West by the ocean basin of Lagoa de Óbidos and the Atlantic Ocean.
WHAT TO DO IN THE SILVER COAST REGION
To Visit
Praia de Santa Cruz, Ericeira, Medieval Town of Óbidos, Lagoon of Óbidos, Natural Reserve of Berlenga, Thermae of Vimeiro, Sintra, Lisboa.
Museums and Monuments
Torres Vedras - Municipal Museum, Medieval Castle, Fort of S. Vicente, Convent of Graça, Chafariz dos Canos and Castro de Zambujal;
Obidos - Castle and Town of Óbidos rich in arqueology, painting, museums and religious art with various churches;
Peniche: Museum and Fort;
Lourinhã – Museum of Lourinhã (with the largest collection of Dinosaur eggs in the world), Church of SantaMaria do Castelo and Fort of Paimogo;
Nazaré – Etnografic Museum, Sanctuary of Nossa Senhora da Nazaré e Miradouro;
Alcobaça – Monestary (Patrimony of Humanity), Porceline SPAL and Atlantis Crystals;
Caldas da Rainha – Museum Malhoa, Museum São Rafael (manufacturing plant of tradtional ceramics of Bordalo Pinheiro), Museum of ceramics and Thermae;
Mafra – Convent and Library, National Tapada of Mafra (Nationa Reserve of Fauna and Flora);
Sintra – Town(Patrimony of Humanity), various palaces, Serra de Sintra and Castle.
Activities
Praia da Areia Branca – revolved by por rocky formations and extraordinary beauty;
Praia de Santa Cruz - Surf, Bodyboard, Paraglyding and Sportive Fishing, Pedonal tours, Bicicle Routes; Airfield of Santa Cruz – aeromodeling and propellerplane tours;
Ilha da Berlenga – diving; - Golf – Hotel Golf Mar (2 km – 9 holes),
Campo Real Golf Resort & Spa (18 km – 18 holes);
Themes and events to explore: - West Wine and Vine Circuit – pathways which main purpose is wine tourism: Quinta de Chocapalha, Quinta do Monte D'Oiro, Quinta de Pancas, Quinta das Cerejeiras, Quinta do Sanguinhal e Quinta dos Loridos (Buddha Eden Garden);
Torres Lines – group of fortified lines of the peninsular period for the defense of the territory;
Torres Vedras Carnival – the most Portuguese Carnival of Portugal;
International Accordion Festival – Torres Vedras;
Chocolate International Fair – Obidos- Medieval Market – Obidos;
Opera Festival – Obidos;- Óbidos Christmas Village;
Summer Wave – Animation program with music, theater, street animation, and Summer Carnival – Santa Cruz;- Ocean Spirit – International Waves Sports Festival – Santa Cruz;